Quantum Hot Water Heat Pumps
SA Hot water are your local Adelaide Sanden specialist for sales, and great prices on Quantum Heat Pump hot water systems. Call today on 8444 7320 for a great deal.
The origins of the company go back to the mid 1970's when extensive research work was undertaken by the University of Melbourne in the development of heat pump technology
for the production of hot water. Today this patented technology is used in thousands of Australian homes as well as commercially in Australia, New Zealand, Asia and Europe.
With over 30 years of on-going product development, Quantum are the experts in Solar Heat Pump water heating.
Our products have been tried and tested to perform reliably and efficiently throughout Australia, in even the harshest water and weather conditions.
Why purchase a Quantum Hot Water Heat Pump System?
Suitable for use in harsh water quality conditions
The water does not make contact with any operational components, only the inner lining of the tank
Low noise rating
Ultra quiet operation as low as 48dB – less than an average split system air conditioner.
Solar without the panels
Hot water from solar energy, without the need for direct sunlight or roof panels. Heat pumps generate hot water day and night.
Easy installation
A compact design resulting in reduced labour and installation costs.
No booster element
Quantum heat pumps operate in ambient temperatures as low as -10°C. No booster element, means less energy consumption.
Government rebates
Eligible installations attract a substantial energy efficiency cash rebate.
Patented Tank Wrap™ design
Quantum's patented wrap design offers one of the fastest hot water recovery rates in the heat pump market.
Save on power bills
Can cut up to 70% of running costscompared to some electric storage units.
Warranty
5 years tank, 2 years electric and refrigeration inclusive of parts and labour
Quantum 150L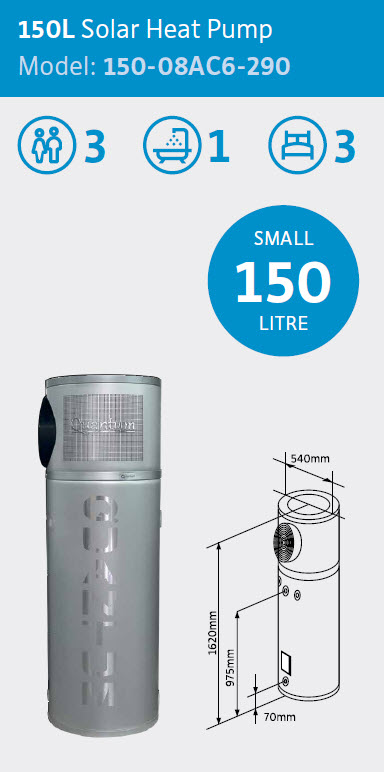 | | |
| --- | --- |
| Storage Size | 150 L |
| Rated Delivery | 130 L |
| Heating Output | 3.61 kW |
| Power Input | 0.84 kW |
| COP of Heating* | 4.3 |
| Compressor | Rotary |
| Refrigerant | R290 |
| Electrical Supply | 220-240V/50Hz/1Ph |
| Circuit | 10 Amps |
| Water Connections | 3/4" BSP |
| PTR Valve Setting | 850 kPa |
| ECV Setting | 700 kPa |
| PLV Without ECV Fitted | 500 kPa |
| PLV With ECV Fitted | 300-500 kPa |
| Operating Sound Level** | 50 dBA |
| Dimensions (Height x Diameter) | 1620 mm x 540 mm |
| Nett (Empty) Weight | 100 kg |
| Ambient Operating Temperature | -10 °C to +35 °C |
| Water Temperature Setting | 60 °C |
| Hot Water Production Rate* | 72 L/hr |
Quantum 200L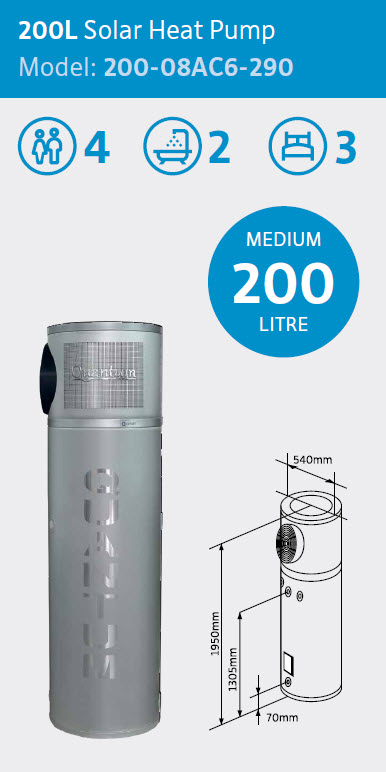 | | |
| --- | --- |
| Storage Size | 200 L |
| Rated Delivery | 175 L |
| Heating Output | 3.61 kW |
| Power Input | 0.84 kW |
| COP of Heating* | 4.3 |
| Compressor | Rotary |
| Refrigerant | R290 |
| Electrical Supply | 220-240V/50Hz/1Ph |
| Circuit | 10 Amps |
| Water Connections | 3/4" BSP |
| PTR Valve Setting | 850 kPa |
| ECV Setting | 700 kPa |
| PLV Without ECV Fitted | 500 kPa |
| PLV With ECV Fitted | 300-500 kPa |
| Operating Sound Level** | 50 dBA |
| Dimensions (Height x Diameter) | 1950 mm x 540 mm |
| Nett (Empty) Weight | 115 kg |
| Ambient Operating Temperature | -10 °C to +35 °C |
| Water Temperature Setting | 60 °C |
| Hot Water Production Rate* | 72 L/hr |
Quantum 270L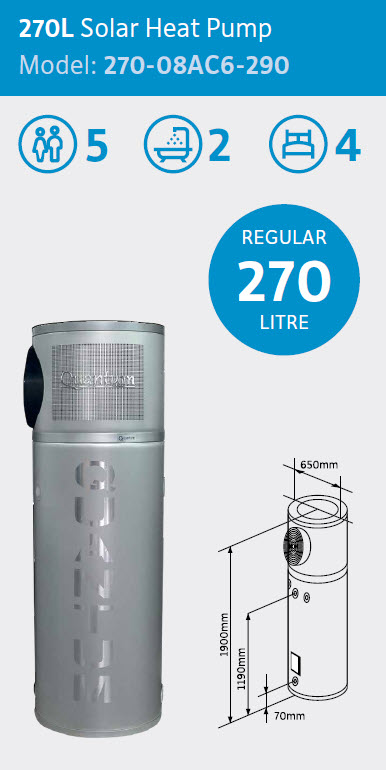 | | |
| --- | --- |
| Storage Size | 270 L |
| Rated Delivery | 250 L |
| Heating Output | 3.81 kW |
| Power Input | 0.84 kW |
| COP of Heating* | 4.53 |
| Compressor | Rotary |
| Refrigerant | R290 |
| Electrical Supply | 220-240V/50Hz/1Ph |
| Circuit | 10 Amps |
| Water Connections | 3/4" BSP |
| PTR Valve Setting | 850 kPa |
| ECV Setting | 700 kPa |
| PLV Without ECV Fitted | 500 kPa |
| PLV With ECV Fitted | 300-500 kPa |
| Operating Sound Level** | 48 dBA |
| Dimensions (Height x Diameter) | 1900 mm x 650 mm |
| Nett (Empty) Weight | 135 kg |
| Ambient Operating Temperature | -10 °C to +35 °C |
| Water Temperature Setting | 60 °C |
| Hot Water Production Rate* | 75 L/hr |
Quantum 340L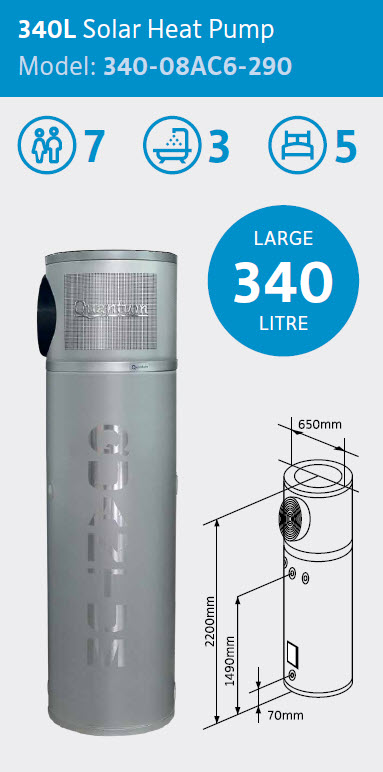 | | |
| --- | --- |
| Storage Size | 340 L |
| Rated Delivery | 315 L |
| Heating Output | 3.81 kW |
| Power Input | 0.84 kW |
| COP of Heating* | 4.53 |
| Compressor | Rotary |
| Refrigerant | R290 |
| Electrical Supply | 220-240V/50Hz/1Ph |
| Circuit | 10 Amps |
| Water Connections | 3/4" BSP |
| PTR Valve Setting | 850 kPa |
| ECV Setting | 700 kPa |
| PLV Without ECV Fitted | 500 kPa |
| PLV With ECV Fitted | 300-500 kPa |
| Operating Sound Level** | 48 dBA |
| Dimensions (Height x Diameter) | 2200 mm x 650 mm |
| Nett (Empty) Weight | 170 kg |
| Ambient Operating Temperature | -10 °C to +35 °C |
| Water Temperature Setting | 60 °C |
| Hot Water Production Rate* | 75 L/hr |